Create A Glamorous & Beautiful Wavy Hairstyle!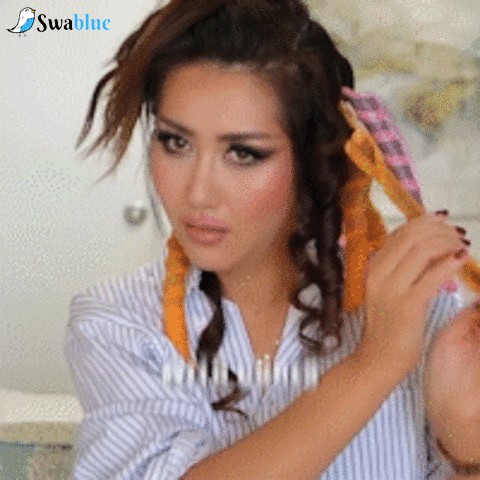 The Magic DIY Hair Curler is more than enough, you can control it easily, a DIY solution to your favorite wavy hairstyle. Suitable for dry or wet hair, long or short hair, thin or thick hair. The Magic DIY Hair Curler is a great alternative to using heated styling irons and will create healthy-looking magic curls and waves, without damaging your hair. Easy, Glossy, Smooth, defined, healthy curls every time. Use of all ages, all hair types from thin straight hair to thick hair, wigs and weaves also create defined smooth curls every time with no heat damage.
FEATURES:
AMAZING WAVES:

Create a soft elongated spiral curly wave to give you a soft beachy, textured look, use to the root or halfway down for soft tousled bends to the ends of the hair.
HIGH-QUALITY HAIR CURLERS: Made in soft metallic tone color, there are hair curlers & hooks in a beautiful ocean blue bag.
NO HEAT HAIR CURLER: Waveformers can dry naturally in the hair & are a special kind alternative to using direct heat like curling irons. The spiral perm rods, sufficient quantity can satisfy your daily needs, you also can share with your friends, families, or other people. Very suitable for home, hotel, and any beautiful places. With a large quantity, it is applicable to a hair salon.
WAKE UP WITH CURLS: The tip for sleeping with hair curlers at night is to tie them up and back with a scarf, find a comfy position and you'll love the curls you wake up with.
HOW TO USE:
Wash and condition hair as you normally do
Pat dry and detangle
Apply a leave-in conditioner and then section your hair
Twist a small section of hair at the root
Hook the styling wand around the twisted hair
Gently guide the strand of hair into the wave styler
Leave in for 2-3 hours or until hair is dry
Note: Depending on how much hair you have, we recommend at least 2 packages of the styling kit
SPECIFICATIONS:
Material: PET tube
Size: 30cm
PACKAGE INCLUDES:
12 wave stylers
1 x styling wand